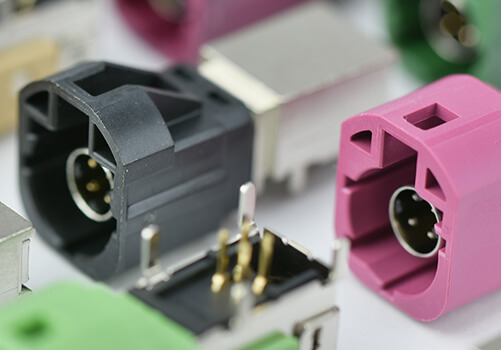 High Speed Data Connectors
Fully shielded, robust design. Compliant with USCAR interface requirements.
Get in touch
Mitsumi High Speed Data (HSD) Interconnect Solutions
High Speed Data transmission including USB2.0, LVDS, Ethernet, and more
Multiple variations available with 2 power pins (HSD+2)
Multiple codes available (mating key)
Color Coding efficiency complies with Automotive standards
High PCB retention force
Pin-in-Paste compatible
Scoop proof design – contact pins protected from damage
Tape & Reel Packaging – suitable for automated assembly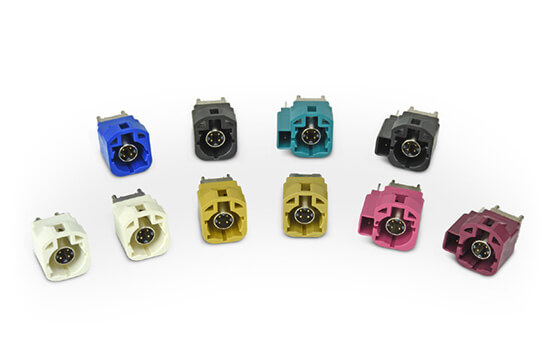 High speed coaxial RF connectors from Mitsumi
Mitsumi's high performance connectors offer an impedance-controlled interconnect system for High Speed Data (HSD) applications, and are perfectly suited for low voltage differential signal (LVDS) transmissions. As part of a fully shielded system, these connectors can be used with shielded, twisted quad cables, to maintain signal integrity while preventing interference from cross talk or external sources.
Learn more about our high speed data transfer options
Automotive USCAR compliant design
Designed to meet the demanding requirements of the automotive market, Mitsumi HSD Connectors are ideal for LVDS, cameras, USB, and IEEE 1394.
Our interconnect solutions are used in automotive electronics, such as display and infotainment systems.
Additional connector products from Mitsumi:
FAKRA, USCAR-30, Rectangular Interface and Detach Connectors for automotive
Waterproof USB-C Connectors for mobile applications
Get in touch with our experts today
Our team of experienced professionals is ready to help you find the best connector for your needs.
To get in touch, simply fill in the form and we'll respond immediately – or if you want, you can call us between Monday and Friday from 9am-6pm EST at 1-248-919-2250.