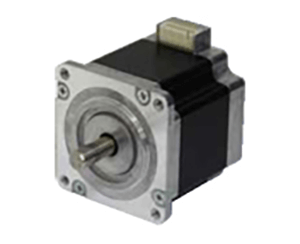 High Torque Hybrid
A Hybrid Stepping Motor consists of an axially magnetized rotor which interacts with the stator coils by alignment of various "teeth" like projections in their respective structures.
These motors are inner-rotor and have low inertia which is favorable for responsiveness and quick acceleration applications that require start-stop motion. Hybrid motors also provide the highest available torque density from the family of stepper motors with very high accuracy and repeatability.
Features
Applicable to NEMA 17 and NEMA 23 sizes
Highest torque in respect to size
Ball bearing standard
Positioning stability and holding capability
High reliability and value
Applications
Medical diagnostic equipment
Medical pumps
Clinical analyzer equipment
Oxygen concentrators

Select one or more checkboxes next to the Series Name to see available inventory to the right. Click one of the Series Names to see part numbers filter by series.
Select one or more checkboxes below to Get a Sample or Buy Now. Click on Full Part No. to see detailed specifications.