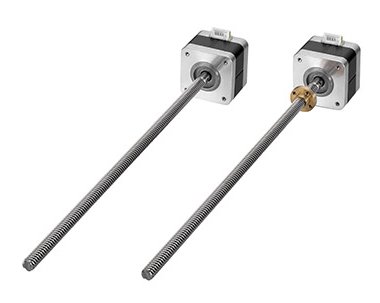 Linear Hybrid
A Hybrid Stepping Motor consists of an axially magnetized rotor which interacts with the stator coils by alignment of various "teeth" like projections in their respective structures. These motors are inner-rotor and have low inertia which is favorable for responsiveness and quick acceleration applications that require start-stop motion. NMB's linear stepping motor's high performance and compact design are accomplished through a lead screw that converts rotary to linear motion.
Features
Available in captive, non-captive and external lead-screw types
Applicable to NEMA 08-NEMA 23 sizes
Flexibility in offering leadscrews to fit customer's desired application needs
Standard flanged & anti-backlash nuts available
Applications
Medical diagnostic equipment
Clinical analyzer equipment
Other laboratory instruments
3D printers

Select one or more checkboxes next to the Series Name to see available inventory to the right. Click one of the Series Names to see part numbers filter by series.
Select one or more checkboxes below to Get a Sample or Buy Now. Click on Full Part No. to see detailed specifications.